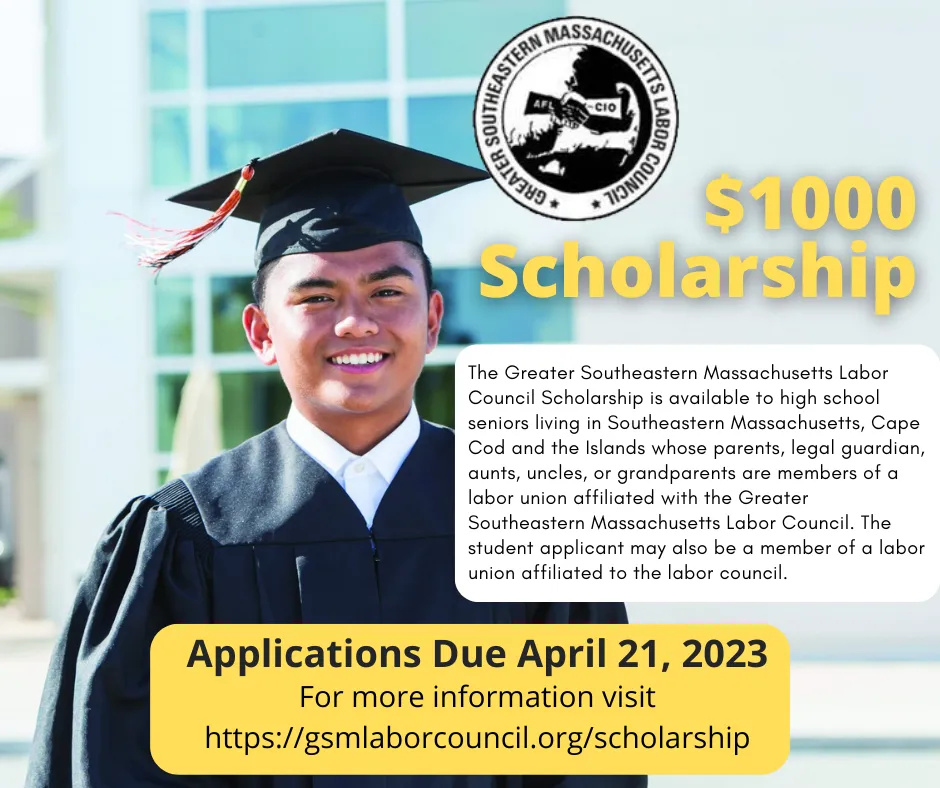 Important Scholarship Links:
About the Scholarships:
Evelyn Moniz Scholarship
Evelyn was one of the original founders of the International Ladies Garment Workers Union in Fall River in 1935. She went on to organize thousands of immigrant garment workers across the city making Fall River one of the strongest union cities in the Northeast. She continued to work in the garment factories of Fall River and held many elected offices in the union including Joint Board Delegate, International Convention Delegate, President of Locals 178 and 361, Recording Secretary of the New England Joint Board, and Chaplain for the Greater Southeastern Massachusetts Labor Council. Her career of service to her union spanned 61 years during which time she helped guide our union  through two mergers. She retired from union leadership in 2011. She received too many awards from various organizations to even list but she was proud of each and every one. She was passionate about her city and was active in civic life for decades.
Evelyn was one of the strongest labor leaders in Massachusetts. She had an unbreakable courage and keen sense of right and wrong. Her passion was giving voice to those without one and she did this unflaggingly. She was known for her unique and infectious sense of humor and her unrelenting loyalty to her union and the cause of the labor movement. She was a union woman to her core. We will forever be in gratitude for her sacrifice and loyalty to our union. Her work serves to inspire us all. Her spirit will live on in every factory where workers struggle to make a living and in every union hall where workers stand together for justice.
The Greater Southeastern Massachusetts Labor Council Evelyn Moniz Scholarship is available to union members living in Southeastern Massachusetts, Cape Cod and the Islands of a labor union affiliated with the Greater Southeastern Massachusetts Labor Council and shows commitment to future action to strengthen the union movement. 
José A. Soler Memorial Scholarship
The Greater Southeastern Massachusetts Labor Council is honored to announce the creation of the JOSÉ A. SOLER MEMORIAL SCHOLARSHIP. 
Described as an intellectual, relentless advocate and organizer, and award-winning photographer, José Soler fought for Puerto Rican independence, people of color, traditional public education, workers rights, as well as, racial, social and economic justice. 
José Soler (b.1945) served as national (US) president of the Puerto Rican Socialist Party (PSP) and supported decolonization efforts in the Americas and Africa. He worked as a labor organizer and labor journalist and was also an active member of or associate of the International Organization of Journalists, Clergy and Concerned Laity, the Black Berets, the Puerto Rican Independence Movement, and was co-chair of the U.S. Peace Council's March against Nuclear Weapons, as well as internationally and organizationally active in the Anti-Apartheid Movement.
José was a long time executive board member of the Greater Southeastern Massachusetts Labor Council and director of the Arnold M. Dubin Labor Education Center at the University of Massachusetts Dartmouth for 22 years. He most recently served as co-chair of the New Bedford Coalition to Save Our Schools and helped lead the group's fight against charter school expansion in New Bedford.
He was giving, humble, empathetic, a loving and proud father and grandfather and worked up until his last days. José was married to the struggle.
The JOSE SOLER MEMORIAL SCHOLARSHIP will be given to a student, of any age, seeking to continue their post-high school/GED education in a certified technical and/or higher education program, including undergraduate and graduate-level studies. Ideal candidates will embody the traits that José personified -- community engagement, social consciousness, activism, artistic & intellectual excellence, and 'telling truth to power.' José believed in the power of education, but his passion was also fueled by his lived experience. All candidates will be considered, but those with experience in community organizing are encouraged to apply. 
If you'd like to contribute to a scholarship in memory of José Soler you can send checks addressed to the Greater Southeastern MA Labor Council (GMSLC), 560 Pleasant St., New Bedford, MA 02740 or visit https://gsmlaborcouncil.org.